Channel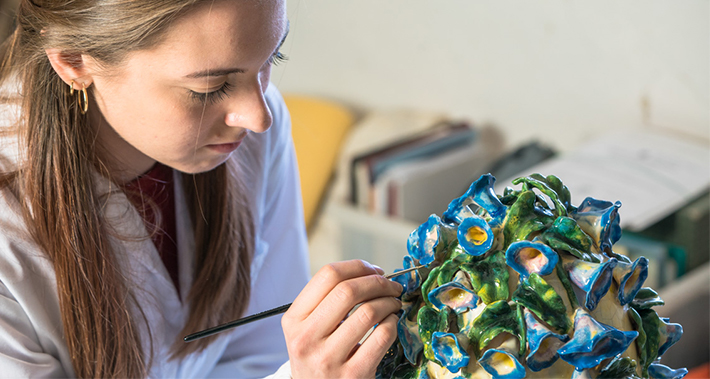 Two recent graduates receive study-work grants from the Cologni Foundation, Milan
For the second year in a row, the Cologni Foundation in Milan has awarded study-work grants to two of the Institute's recent graduates through the program 'Una Scuola. Un Lavoro. Percorsi di Eccellenza'
Sara Bessi (stone restoration) and Diletta Maiotti (frescoes restoration) will study on a master's course in Milan and then go on a post-study internship at the restoration laboratories of Maura Masini and Andrea Vigna in Florence.
Sara Bessi
Internship at: Maura Masini – San Casciano in Val di Pesa (FI)
Sara Bessi is 22 years old and lives in Florence, where she graduated from Palazzo Spinelli Institute for Art and Restoration in 2018, specialising in the restoration of stone materials. During her curricular internship experience she participated in the restoration of an artificial cave inside an illustrious Florentine palace. On this occasion she had the opportunity to try her hand at a multifaceted restoration, which involved a wide variety of materials, and at the same time she met her tutor, Dr. Maura Masini, an expert restorer with whom, thanks to the Cologni Foundation and the project "Una Scuola, un Lavoro. Percorsi d'Eccellenza", Sara can continue her learning in this field. The 6-month internship will allow her to come into contact with different techniques for conservation and restoration interventions, not only on works in stone, but also in other materials and colours. Thanks to this internship, Sara feels that she has expanded both her technical training and her knowledge of the working world, receiving a huge boost for her dream of turning a great passion into a profession.
---
Diletta Maiotti
Internship at: Habilis – Firenze
Diletta Maiotti is 23 years old and comes from Orvieto, in the province of Terni.
She studied at the Art School in Orvieto and then continued her journey to Florence, at the Palazzo Spinelli Institute for Art and Restoration. After three years of training, she graduated in June 2018 and received the qualification of Restoration Technician for Decorated Architectural Surfaces. In the autumn of the same year she was selected to participate in the "Una Scuola, un Lavoro" project of the Cologni Foundation, which allowed her to follow a one-month master's course in prestigious Milanese universities and subsequently to begin a six-month internship at the Habilis firm in Florence, specialized in the restoration of decorated architectural surfaces, wooden sculptures and paintings on canvas and wood.
Her tutor, as well as the owner of the company, is Dr. Andrea Vigna, who will follow her on her field training until July 27, 2019. Diletta feels she can draw a lot from this experience: "this internship allows me acquire more experience in the world of restoration, not only with regard to interventions on frescoes, but also on other types of works, using different techniques. I would like to continue to deepen my knowledge and expand my personal culture: I am sure that this experience will make my future working career productive and rewarding".