About us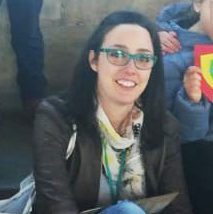 Francesca Luchini
Turismo Culturale e Itinerari Culturali
Laureata nel 2010 in "Storia e Tutela dei Beni Artistici" e nel 2013 in "Storia dell'Arte Moderna" all'Università degli Studi di Firenze, ha conseguito il Master in "Management degli Eventi Artistici e Culturali" a Palazzo Spinelli.
Dopo un'esperienza lavorativa all'estero presso la National Trust of Ireland come Conservation and Engagement Assistant, ha lavorato alcuni anni come Operations Manager e Responsabile della Logistica in una galleria d'arte contemporanea di Firenze.
Ha poi completato nel 2019 la sua formazione prendendo l'abilitazione come Accompagnatore Turistico e Tecnico Qualificato Guida Turistica.
Dal 2019 svolge attività libero-professionale come Guida Turistica Nazionale.