About us
6132 Graduates

World

Stati Uniti 102

Giappone 122

Brasile 31

Messico 58

Argentina 19

Egitto 60

Turchia 13

Canada 14

Venezuela 10

Tunisia 2

Siria 15

Israele 18

Ecuador 16

Colombia 19

Canada 14

Corea 9

6132 Graduates

Europe

Italia 3733

Francia 117

Spagna 188

Germania 277

Gran Bretagna 26

Austria 75

Grecia 67

Croazia 53

Belgio 39

Finlandia 13

Danimarca 9

Islanda 13

Portogallo 24

Svizzera 170

Svezia 69

Cipro 34

6132 Graduates

Courses

Restoration of Paintings 2155

Restoration of Frescoes 107

Restauro Legni 850

Restoration of Paper 341

Restoration of Ceramics and Stone 536

Masters Courses

Management of Cultural Heritage 363

Art Conservation and Restoration 286

Man. of Cultural and Artistic Events 356

Performing Arts Events Management 117

Integrated Technologies for C.H. 46

Exhibition and Museum Design 32
All students are automatically members of the Palazzo Spinelli Institute Alumni.
Using the Institutes internal search engine, we are able to provide information on job opportunities and correspondence in the field and to put students in touch with companies and institutions operating in the enhancement of cultural heritage, all in the correct observation of the privacy policy.
The Alumni is also a virtual meeting place where our students can communicate and exchange information and ideas, thus implementing a creative and functional network to pursue their aspirations.
There are two sections where we highlight stories of our graduates and relevant news related to their professional experiences. These demonstrate how the ability of our students and their professionalism has helped produce greater momentum to the cultural sector and how the students themselves have managed to improve.
Allievo del mese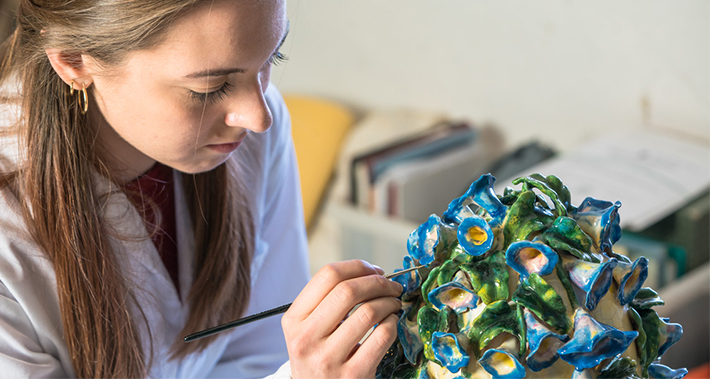 For the second year in a row, the Cologni Foundation in Milan has awarded study-work grants to two of the Institute's recent graduates through the program 'Una Scuola. Un Lavoro. Percorsi di Eccellenza'
More Information about the Alumni
If you want to stay updated on the initiatives and opportunities to join the Community Palazzo Spinelli, follow us on your preffered social network.
If you are part of the alumni and would like to publish a news story or share a story in this section, contact